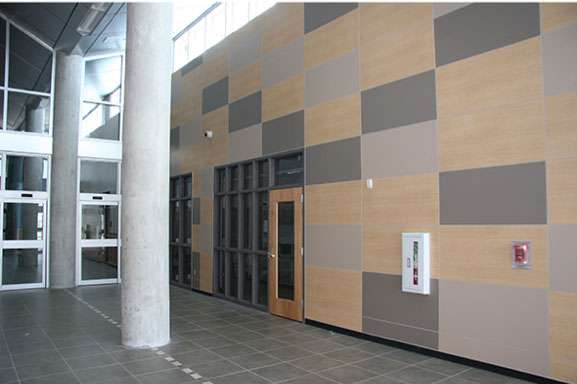 Our wall panel systems combine appearance, utility, and versatility for an end result that's both practical and aesthetically pleasing. If you're a busy designer trying to create both beauty and functionality in an interior space, then consider the advantages of using wall panel systems from Panel Specialists.
Here are four possible options to stir the imagination:
Classic wooden shades evoke a sense of tradition while connecting the observer with the awe and majesty of nature. Our wood veneers capture this theme perfectly while offering all the benefits of modern, state-of-the-art manufacturing. Each panel offers one-of-a-kind patterns and ultra-precise joinery for a look that's continuous without being uniform.
Our metal laminates convey a sleek, modern look. They're the optimum choice for designers trying to create a more contemporary, artistic look without appearing sterile or utilitarian.
Our TorZo™ surfaces is crafted from a fusion of recycled wood and agricultural by-products, making it both sustainable and environmentally friendly. Infused with colored polymer resins for a truly stunning look, TorZo™ panels combine textual variety, structural strength, and ecological sensitivity for a look that's professional yet distinctive.
Our high pressure laminate panels are an excellent choice for designers looking for a highly durable, low-maintenance option for public buildings like schools, retail and any facility where scuff marks, stains, and graffiti are everyday concerns. These panels offer both visual appeal and ease of care for a combination that will please even the most discriminating observers.
Mix and Match for a Truly Distinctive Look
Our customized fabrication methods enable us to easily combine materials for a look and feel that match your creative vision flawlessly. For example, we can blend wooden and metal elements, or TorZo™ and pressurized laminate, together for an eclectic design that will truly stand out. With wall panel systems from Panel Specialists, the possibilities are endless. Contact us today to arrange an initial consultation.