If you are facing the prospect of repurposing your work or educational space, the agony of demolition may seem overwhelming. Why not make your life easier and choose a Wall Panel System from Panel Specialists, Inc.?
Save the costs of demolition
Save the costs of disposal
Save the costs of extensive cleaning
Save the environment by avoiding the landfill
Avoid Demo Day
Some designers really enjoy "Demo Day," however, we think that idea should just be scrapped!  It is so much easier and less invasive to simply cover the ugly and get instant gratification. Interior wall panel systems are easy to install while they limit the amount of dust, debris, and disturbance you get from demolition. In fact, in some cases, you can continue educating and/or working while the project is being installed…no need to move out for months on end.
Improve Team Productivity
Interior Wall Panel Systems offer products that can be easily integrated with your commercial and educational tools. Our magnetic porcelain enameled steel-faced whiteboards are a must for half-time locker room recaps, conference rooms, brainstorming pods…any collaboration space where you use white and/or magnetic boards. We can help you break through the creative barriers and increase team productivity. You can use almost any writing tool without damaging the surface or battling unsightly ghosting. While you are cruising our site, be sure to check out our self-healing Tack Boards and Acoustical Panels. Choosing the right panels can turn unused wall space into "working walls."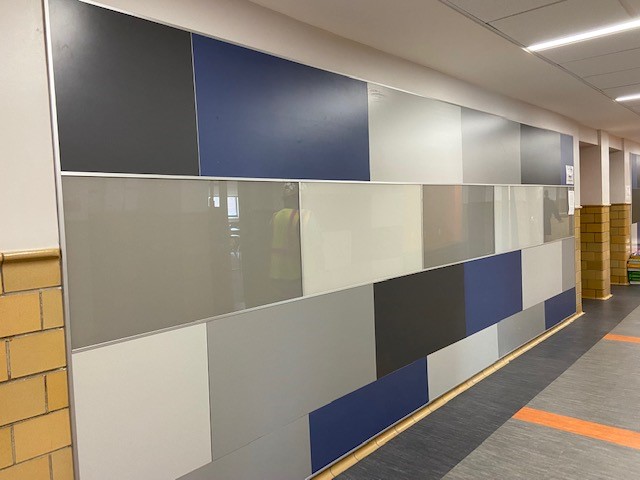 Save Building Maintenance Time and Resources
Why waste your maintenance time and resources with continual and costly wall touch-ups, patches, and painting?  Our High-Pressure Laminate Panels (HPL) are durable and hygienic because they are easy to clean (using standard cleaning products) while withstanding high-traffic areas with ease. You know that little hands love to touch the walls. Now, you can just wipe and move on to the next project on your building maintenance list. Our panel systems stand up to wear and tear and rarely need replacing, repainting, or refinishing, unlike other surfaces. Another bonus is that all of our HPL panels are Class-B fire-rated and we also offer panels that are Class-A fire-rated.
Camouflage Unsightly Features
If your commercial space or school is in a re-purposed building, you might be dealing with some outdated feature that has become the 800-pound elephant in the room. Instead of going all-out to remove it, why not camouflage it with the skillful use of our paneling systems?  Old, unused mechanical flues can become cabinets, reading nooks, or tech charging stations. Who knows…that liability might become an asset!
Want the look of wood without the maintenance, consider New Leaf© HPL. This is the closest substitute to real wood veneer with a much better price point and superior durability. An added plus is that these products are manufactured with sustainability in mind. Every sheet of New Leaf Performance Veneer© comes from a single responsibly-harvested tree as opposed to clear-cut harvesting and carries Forest Stewardship Council chain-of-custody certification.
Make a Huge Impact!
Want to inspire awe in a visiting team or instill pride in your workforce?  Using our custom high-pressure laminate panels, we can splash your company logo or your team's mascot across a huge venue. They are also ideal for outdoor signage, museum exhibits, and wayfinding. High-resolution images, crisp text, and durable graphics are guaranteed to capture the eye, inspire confidence, and fuel the imagination.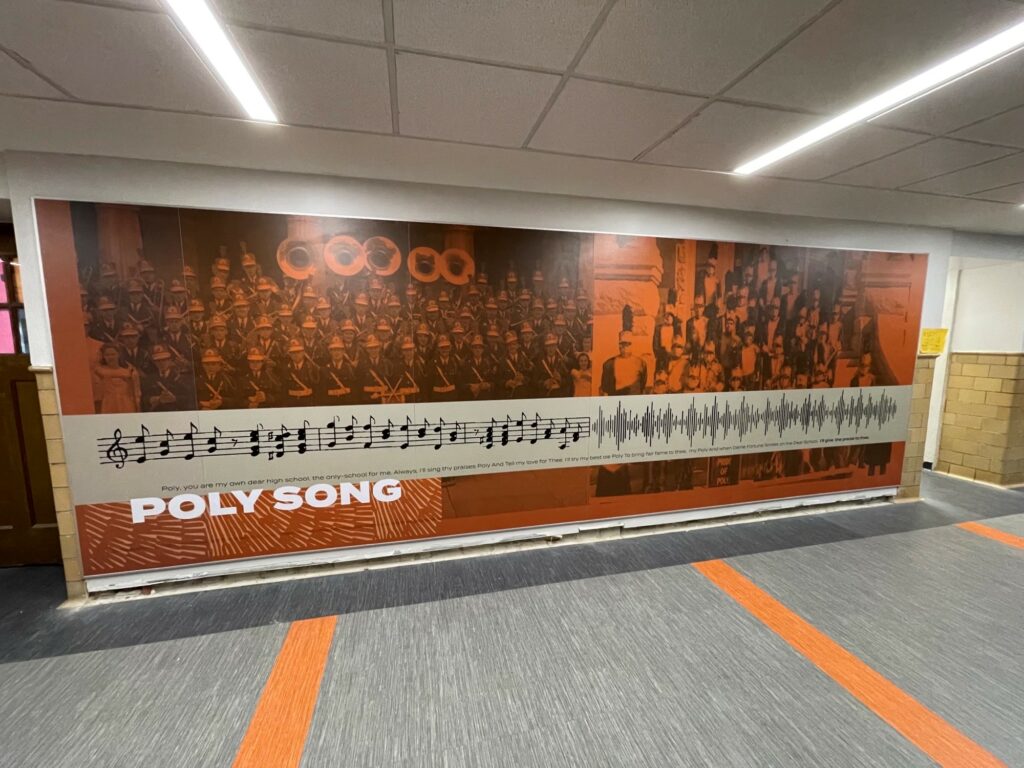 Now that you are ready to upgrade your aesthetic in a short amount of time and improve student/employee productivity, give us a call to start your next project.