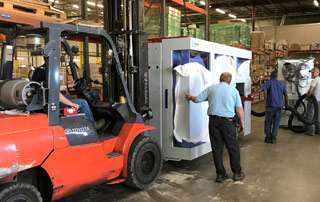 Our recent investment in the latest woodworking equipment technology speaks to the PSI commitment to both our customers and employees. The new, state-of-the-art units facilitate greater precision and faster production. A nod to the longevity and viability of Panel Specialists, Inc. as an organization.
The most recent acquisition includes a new Weeke Optimat BHX 500 CNC Processing Center, now one of three BHX high speed, precision boring, grooving and routing work cells in our facility. These precision machines combine the best of all worlds, delivering more capacity, accuracy, efficiency and flexibility.
Prior to this acquisition, PSI installed two high-speed panel processing solutions; a Holzma HPL 400 Rear Load Panel Saw and Holzma HKL 400-4300 Angular Saw. The combined platform allows for the precision processing of laminated and melamine panels at a rate of more than 1800 panels per shift.